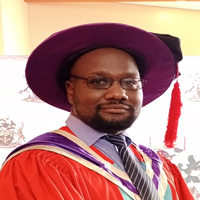 Student Short Biography:
Dr. Jesse Omondi Owino, holds a PhD in Climate Change and Adaptation(CCA)from the University of Nairobi, 2020. He also has Master of Science degree in Natural Resources Management from Egerton University and Bachelor of Science(Natural Resources Management) degree from the same university. He is an accredited ecologist by East Africa Natural History Society, Nature Kenya, British Ecological Society and Environmental Expertby National Environment Management Authority. Dr. Jesse Owino is renown scientist, under Kenya Forestry Research Institute. He has over 18 years' experience successfully working with people from diverse cultural, religious, economic and social backgrounds. Dr. Owino has gained this experience working with various organizations such as Kenya Forestry Research Institute (KEFRI), Sports Kenya (Facilities), Egerton University's Faculty of Environment and Resource Development, KEMRI-Research Care Training Protocol Centre, with technical skills specialty themes being; climate change, natural resources management, ecology, adaptive management of natural resources, biodiversity data informatics and policy.
Thesis Title: EVALUATION OF OPTIONS FOR MINIMISING GREENHOUSE GAS EMISSIONS THROUGH IMPROVED MANURE MANAGEMENT IN SMALLHOLDER DAIRY FARM SYSTEMS IN NANDI COUNTY, KENYA
Thesis Abstract:
An increase in atmospheric greenhouse gas (GHG) concentrations, mainly methane (CH4), carbon dioxide (CO2) and nitrous oxide (N2O) from agricultural activities, is a global concern as it leads to climate change. There is also a problem with nutrient mining, especially of nitrogen in smallholder farms. Human population growth and increased demand for livestock products, including milk, are expected to intensify the dairy sector which would lead to higher GHG emissions and low availability of nutrients in farms leading to low productivity. The main objective of this study was to develop options for minimizing nutrient losses and greenhouse gas emissions through improved manure management in smallholder dairy farm systems in Nandi County, Kenya. This study applied a transdisciplinary approach focusing on minimizing GHG emissions and nutrient losses through improved manure management of smallholder dairy farmers. Beginning with household survey followed up by Focus Group Discussions and finally validated with Key Informant Interviews. This study found that Nandi County has three livestock confinement systems of Only Fence (90%), Fence and Roof (2.5%) and Fence, Roof and Floor (7.5%). The study also observed seven manure management systems; heaping fresh manure (49%), heaping dry manure (44%), biogas (2.7%), slurry (2.7%), splitting urine (0.3%), compost (0.3%) and storing urine (0.3%). It was observed that 94% of manure was managed as uncovered heaps of either fresh or dry manure. Manure stored in such manner lost about 50% of N during a three-month storage experiment; the N lost is substantial. The study analysed and found GHG (CH4, CO2, and N2O) emissions from uncovered solid storage manure heaps have the highest emissions from Fence, Roof, and Floor as the manure from Only Fence systems have already lost most of the urine N through leaching. In terms of GHG (CH4, CO2, and N2O) emissions converted to Global Warming Potential for comparison, manure from FRF managed as solid storage emitted the highest contribution (37%). Solid storage of manure yielded mean methane conversion factor (0.043%) and mean emission factor for N2O (0.003%). The key technical socio-economic and institutional constraints to improving manure management were that smallholder dairy farmers had a low opinion of using manure from their farms on high-value crops. These farmers also had a low opinion on the need to improve manure quality in terms of handling, storage, and application due to a lack of available farm labour. This study shows that dairy cattle manure is valued highly by the farmers and shows that a critical source of information for improving manure management is local radio. This study observed that majority of the farmers had received information on manure management within the last five years. The farmers in this study preferred heaping either fresh or dry manure as it was the least labour intensive way to manage manure produced from the various animal confinements. The general conclusion of this study is that smallholder farmers in Nandi County, like many other smallholder farmers, have diversified farm activities and are willing to improve manure management after being informed of the losses. This study recommends the engagement of institutions focusing on dairy agriculture, industry, traders, and farmers. This engagement is to explore ways to incentivize or lower costs for robust manure management systems such as biogas systems that would be more effective in minimizing N losses while mitigating GHG emissions.
Key Words: Manure management, Nutrient losses, Greenhouse emissions, smallholder dairy farmers, Livestock confinement systems.